Hello crafty friends,
My baby boy will turn 14 in a few days. We had a family party on Saturday for him. I took Thursday and Friday off, which I used to get ready for the party. I used Sunday, to recover from the party (I don't really like parties). Today I got up and went right into my craft room. I was on a mission to scrapbook.
Honestly, it's been a while since I've been in the frame of mind to scrapbook. Kind of lost my mojo there for a while and I'm not sure I have it back. But with a handful of newly printed (kudos to my new printer) birthday photos.
I pulled out the
Pebbles Birthday Wishes
12x12 paper pad
Wendy Antenucci
sent me a while ago. Was it really back in June? WOW! This summer has just
flown
bye me.
Those who know me, know I love pattern paper and I love designs with text. When I saw Wendy's layout on the Pebbles blog a while ago, I fell completely in LOVE and asked for a tutorial, which she very kindly gave us on June 23rd (
here
). I still love Wendy's
original
layout with
all the color and
embellishments
she added. My plan was to copy (scrap lift) her layout, but
when I sat down, I ended up going in a different direction.
Here's a photo of Wendy's original layout: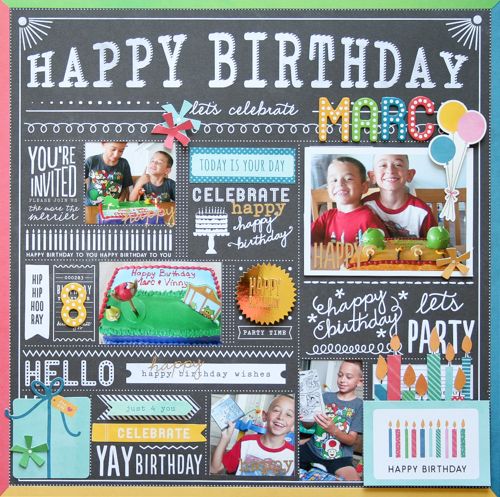 Here's my layout:
I think it's a teen friendly layout and
I'm happy with how it turned out...
although
I just noticed that I didn't include his age, so I'll have to find a place to insert that important piece of info.
Thanks for stopping bye. Stay tune for more bday layouts in the coming weeks.